He was hit with a barrage of criticism, curses hurled at him for allegedly operating a Ponzi scheme and absconding in his bid to escape trial.
News of his arrest in Dubai spread like inferno, bringing some sort of relief to aggrieved depositors as they had the conviction their locked up monies would be paid.
Some were however skeptical considering the conflicting reports about his arrest until the Ghana Police confirmed Nana Appiah Mensah (NAM1), the Chief Executive of gold dealership firm, Menzgold is indeed in police custody after a gold deal went wrong and was set for trial accordingly.
In the midst of fresh reports that NAM1 has won the court case, his Instagram page has been updated with a thanksgiving offering to his creator.
Quoting Hebrews 13.8, he said: "Jesus Christ is the same yesterday, today and forever."
NAM1 was charged with fraud over the gold deal with a UAE company based in Dubai, worth $23million. He was however acquitted and discharged on Tuesday.
According to a report by starrfm.com.gh, the court which pronounced judgment ordered the UAE company to pay him all outstanding debts.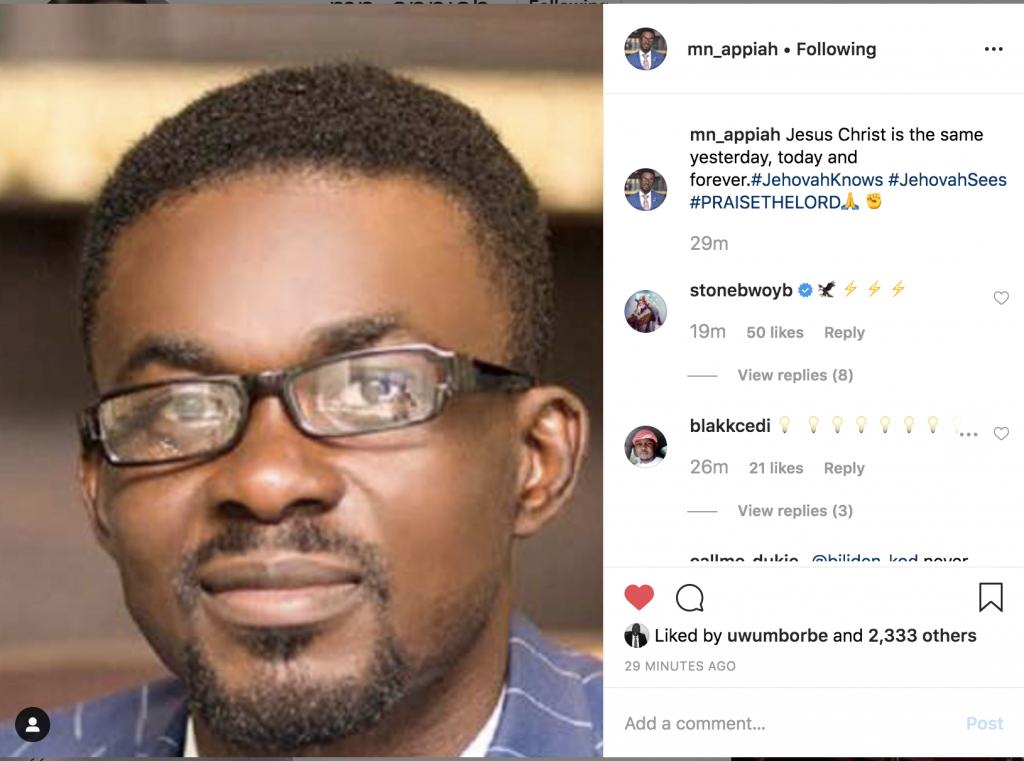 Government delegation headed to Dubai over NAM1 extradition
In January, a high powered government delegation went to Dubai to press for the extradition of the Menzgold boss.
The delegation included Deputy Attorney General, Joseph Dindiok Kpemka, a representative from the Economic Organised Crime Office (EOCO), the Bureau of National Investigation (BNI) and National Security.
The delegation however returned without him as it failed in its bid to negotiate his extradition.
Source: OccupyGh.com 
Tap To Join Our WhatsApp Community