Award-winning Ghanaian cosmetics artist Mina Lawani, also known as Minalyn, has stated that she and her baby's father Zionfelix are parting ways.
The mother-of-one, whose relationship with the famous blogger has been on an up-and-down roller coaster for months, claimed they are no longer a couple in a lengthy Instagram post on Thursday.
In light of this, she also emphasized that she has moved on with her life.
While also expecting a child with the first, Zionfelix cheated on Minalyn with a Ghanaian lady named Erica who lived in Italy.
In 2021, both ladies gave birth to boys at the same time—thus, Mina had a boy and Erica had a boy.
All the while, Minalyn never once addressed her boyfriend's adultery in public.
However, as we start a new year, she has made the decision to be honest about everything that has transpired and to address some claims and remarks made on social media.
Rumors about her being pregnant or giving birth to a boy with Zionfelix as the father, she said in her heartbreaking message, are "completely incorrect" and should be ignored.
Moreover, Minalyn is convinced that Zionfelix purposefully created a path for another woman to thrust herself into their relationship in order to sabotage it.
Minalyn, who believes she has been treated unfairly, finished her article with a parable.
Check out her full post below: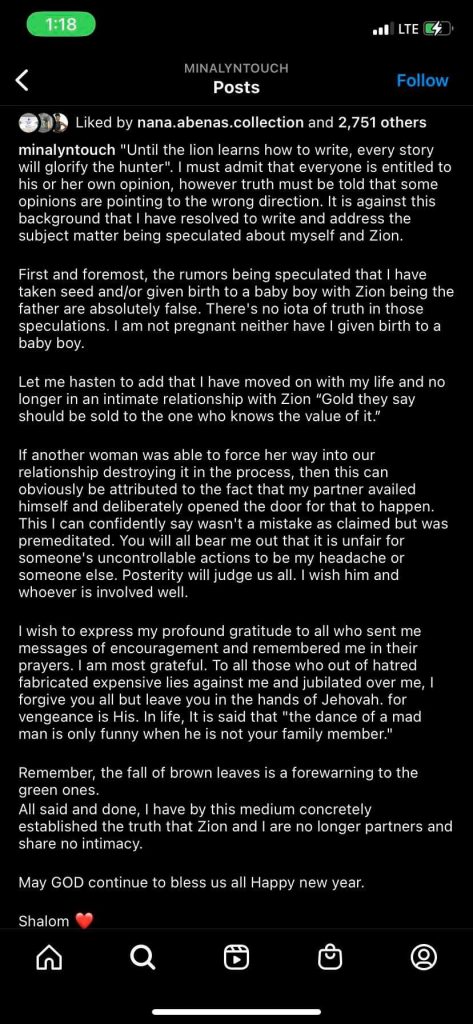 Source: OccupyGh.com 
Tap To Join Our WhatsApp Community