In response to Shatta Michy's appeal for Ghanaians to remember her ex in their prayers, Shatta Wale has responded, and he has responded hard.
Well, according to Shatta Michy, her baby daddy's most recent comments regarding Bulldog and John Mahama made her nervous that he would be implicated.
To that effect, Michy was of the opinion that her family, especially her kid, would be impacted if the unfortunate happened to Wale when she was speaking on her Friday show on Moment TV.
Therefore, she asked Ghanaians to pray for him saying:
"I would plead with Ghanaians, to support the father of my child, Shatta Wale with powerful prayers. I just pray that the revelations coming in won't bring him further problems because once he is down, it will affect me and our son. So please pray,"
In response to Shatta Michy's request for Ghanaians to pray for him, Shatta Wale said that his baby's mom enjoys deceiving Ghanaians.
Shatta criticized Michy for ignoring him and using his name to gain influence in a Snapchat post.
Moreover, the head of SM bemoaned how the majority of Ghanaians fall for Shatta Michy's lies that she cared for him even though the reality is very different.
She refused to speak to him but insisted on praying for him and asking Ghanaians to do the same, so he called her comments absurd.
Shatta posted on his social media handle that:
"You don't talk to me but you want to pray for me.. Does it make sense at all? And plenty of people will fall for this format cuz you can't see they want to use my ex against me. Keep spreading the news that I need help like Kanye West. Billionaire life is hard"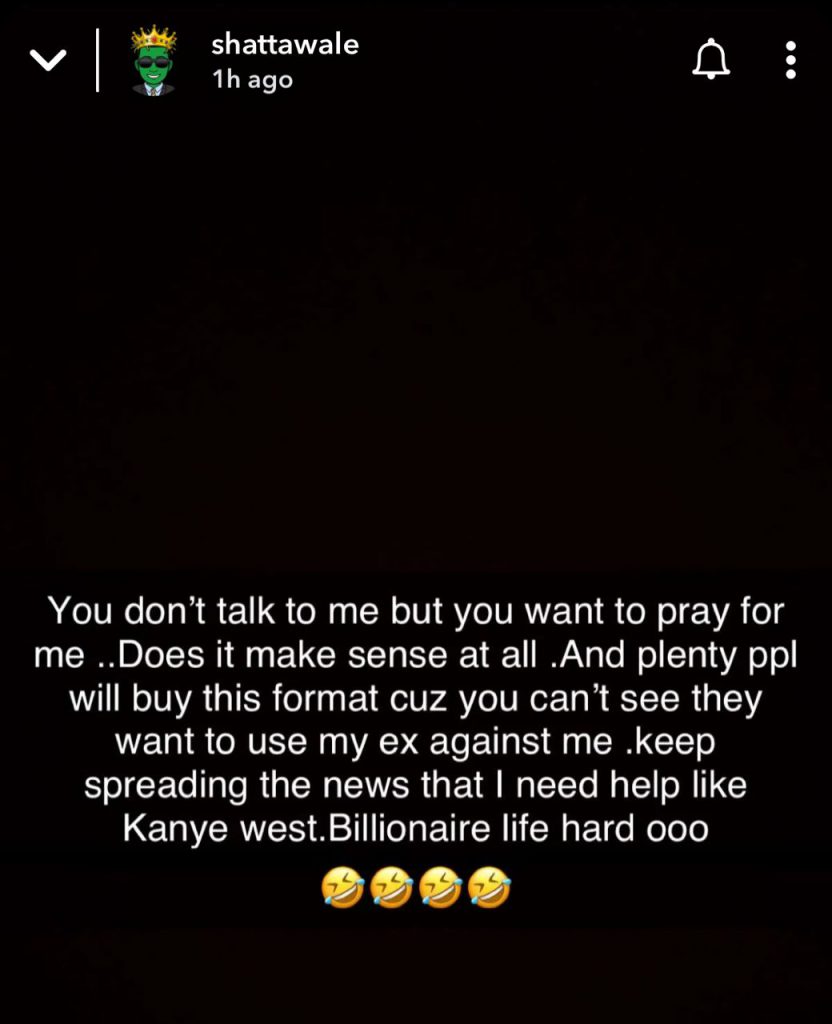 Source: OccupyGh.com
Subscribe to watch new videos
Source: OccupyGh.com 
Click Here To Join Our WhatsApp Community