Africa Cup of Nations, the most prestigious football (soccer) competition in Africa. It is contested by national teams and is organized by the Confédération Africaine de Football (CAF).
The competition's format has changed over time, with the number of teams increasing from 3 in 1957 to, after several expansions, 24 in 2019.
Growing participation also led to the introduction of qualifying rounds in 1968, the same year that CAF decided to hold the tournament biennially.
The Africa Cup of Nations was first held in February 1957 in Khartoum, Sudan, where Egypt defeated the host nation in the final to win the Abdel Aziz Abdallah Salem Trophy, named after its donor, an Egyptian who was the first CAF president.
That trophy was permanently awarded to Ghana in 1978 when it became the first country to win the tournament three times.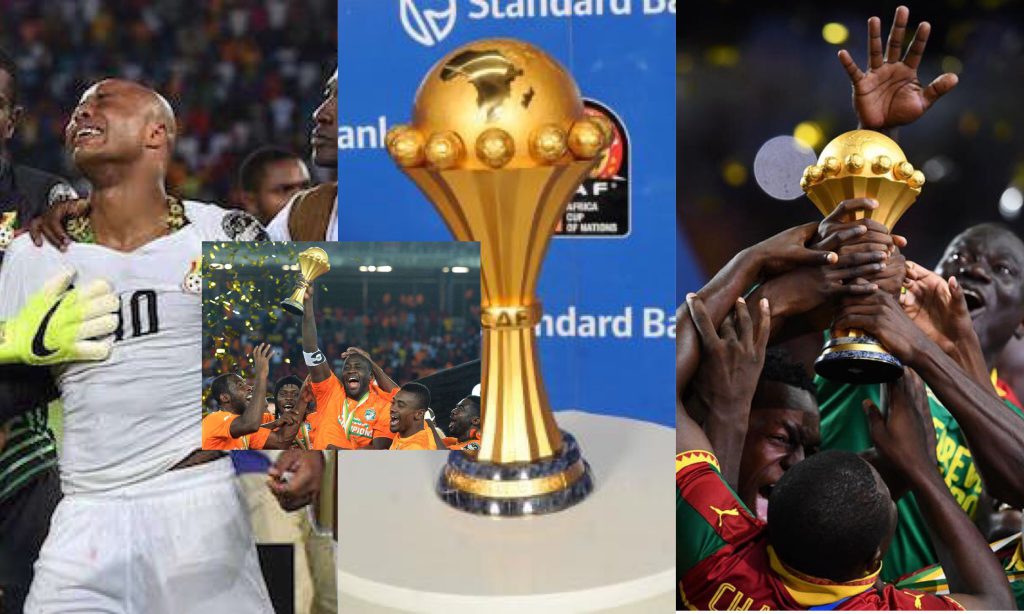 The next trophy, known as the African Unity Cup, was awarded permanently to Cameroon in 2000 when that team claimed its third championship since 1978. In 2002 a new trophy called the Cup of Nations was introduced.
Here is a complete list of 33 Africa Cup of Nations champions, and runner-up;
Year Winner – Runner up
1957 Egypt – Ethiopia
1959 Egypt – Sudan
1962 Ethiopia – Egypt
1963 Ghana – Sudan
1965 Ghana – Tunisia
1968 Congo (Kinshasa) -Ghana
1970 Sudan – Ghana
1972 Congo (Brazzaville)- Mali
1974 Zaire – Zambia
1976 Morocco – Guinea
1978 Ghana – Uganda
1980 Nigeria – Algeria
1982 Ghana – Libya
1984 Cameroon – Nigeria
1986 Egypt – Cameroon
1988 Cameroon – Nigeria
1990 Algeria – Nigeria
1992 Côte d'Ivoire – Ghana
1994 Nigeria – Zambia
1996 South Africa – Tunisia
Egypt – South Africa
2000 Cameroon – Nigeria
2002 Cameroon – Senegal
2004 Tunisia – Morocco
2006 Egypt – Côte d'Ivoire
2008 Egypt – Cameroon
2010 Egypt – Ghana
2012 Zambia – Côte d'Ivoire
2013 Nigeria – Burkina Faso
2015 Côte d'Ivoire – Ghana
2017 Cameroon – Egypt
2019 Algeria – Senegal
2021 Senegal – Egypt
Source: Occupygh.com
Subscribe to watch new videos
Source: OccupyGh.com