It's Time To Disgrace Duncan Williams – Daniel Duncan Williams Reveals
Just when we thought it was all over, we thought wrong, Duncan Williams sons, Daniel has vowed to start fresh saga with his dad.
In a series of tweets sighted by OccupyGh.com, Daniel Duncan Williams has quizzed his dad as to why he arrested him when he got famous.
"THE DAY I GOT FAMOUS IS WHEN U WANT TO ARREST ME?!?!?!?!?!?. AHHHHHHHH U SHULDAVE KILLED ME BECAUSE GHANA THINKS THEY SAW FOOLING LAST WEEK BUT I HAVENT EVEN STARTEDDDDD," Dee Wills noted.
According to the son of Duncan Williams, one of the biggest pastors in the country, he hasn't started 'fooling' and soon he will start.
"Be back Wednesday.. god bless," Daniel noted after his rant on Twitter.
He noted in another tweet:
"So these people said they will release me either ending of this week or early next week. Please be patient with me.. this is much harder for me to go through than it is for you."
Check out screenshots of Daniel Williams tweets below or visit OccupyGh.com for more stories.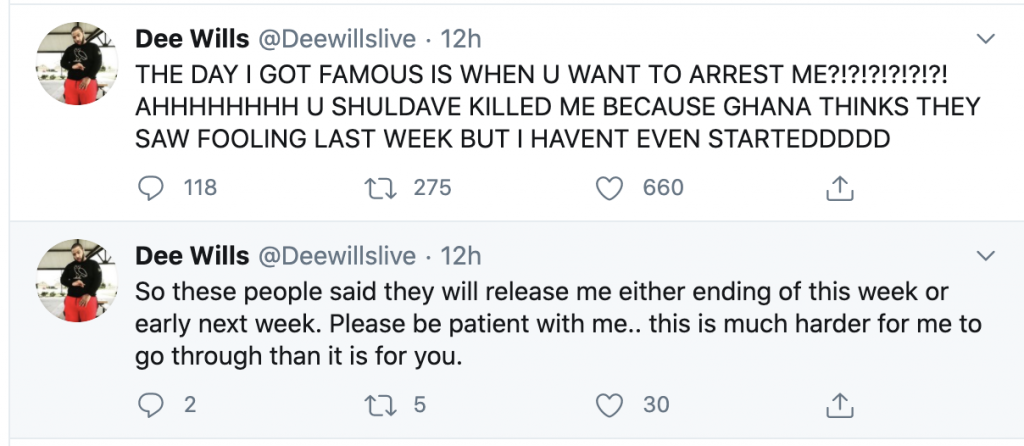 Source: OccupyGh.com