A native doctor aka Juju Man has impregnated a popular pastor's wife in Onitsha, Nigeria, OccupyGh.com has gathered.
This is true from a story shared by a popular netizen on Facebook, Agholor Abraham.
According to Agholor Abraham, the pastor who is quite popular in the neighborhood and his wife have been seeking a child after so many years of getting married
The woman is said to have visited the native doctor for a solution.
The native doctor reportedly performed rituals on several occasions and finally lured the woman and slept with her.
She eventually took seed.
Agholor Abraham post read:
"It is perilous times indeed as it seems the gods have gone mad yet again. A Pastor's wife got pregnant 2 months ago and guess who was responsible for the pregnancy this time around?
"A native doctor who is a chief priest in a local shrine. The native doctor in question is an indigene of Ughelli and he is popularly known as Ekwe-Baba. He is well Patronized by Businessmen and other people alike but what we didn't know was that he was in a Love Affair with the Wife of this Pastor.
"Obviously, the pastor and his wife were looking on to God for the fruit of the womb, and the woman after waiting on God for a few years decided to take matters into her own hands by visiting the Native Doctor.
Yes, she got pregnant successfully but now that she and her native doctor lover has been exposed, one is left to wonder, was it really worth it in the long run?
People are already accusing her of witchcraft and advising the man of God to divorce her and marry a new wife.
Check out a screenshot of Abraham's post below or visit OccupyGh.com for more stories.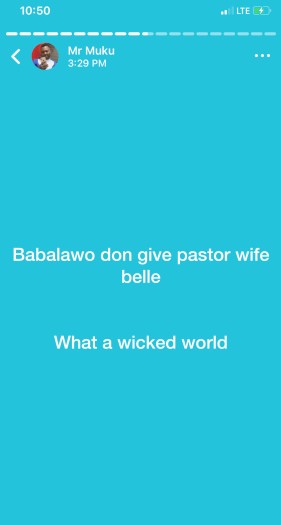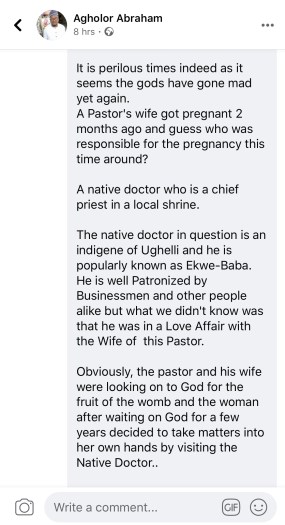 Source: OccupyGh.com