Controversial social critics Ibrah One has lambasted the President of Ghana, Nana Addo Akufo-Addo, calling him a disgrace.
Ibrah One made his daring comment in a snapchat post on his social page.
According to Ibrah One in the post sighted by OccupyGh.com, former president Mahama is far better than Nana Addo.
"Mahama is 100x far better than Nana Addo. Mahama pays his workers good salaries and on time. Mahama never troubled fraud boys. Nana Addo is nothing but a disgrace. Very soon he will be exposed and the whole world will understand all my attacks. #IbrahOne"
Check out a screenshot of Ibrah One's post below or visit OccupyGh.com for more stories.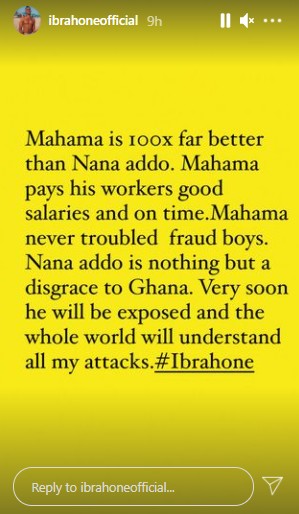 Source: OccupyGh.com