Ibrah One alleges that Nana Akufo-Addo has slept with Ursula Owusu and Jean Mensa and because of that he was able to 'deceived the EC Boss to come out with lies'.
We are still trying to figure out the correlation between Ursula Owusu and Jean Mensa.
Ibrah One who has acclaimed himself as a prophet has for the past two months been dropping 'bombshell secrets' about the NPP and NDC government.
He even asserted that COVID-19 was a faux designed to kill many in Africa.
Well, our hiding prophet is back with a new 'revelation'.
According to the loudmouth millionaire, the President has chopped most of his female appointees. He says such female appointees includes Ursula Owusu Ekuful and Jean Mensah.
He noted on his WhatsApp Status:
"Nana Addo has slept with most of his female appointees! He has slept with Ursula Owusu and Jane Mensah that's why he was able to deceive Jane Mensah (EC Boss) to come out with lies. #IbrahOne."
Check out Ibrah's post below or visit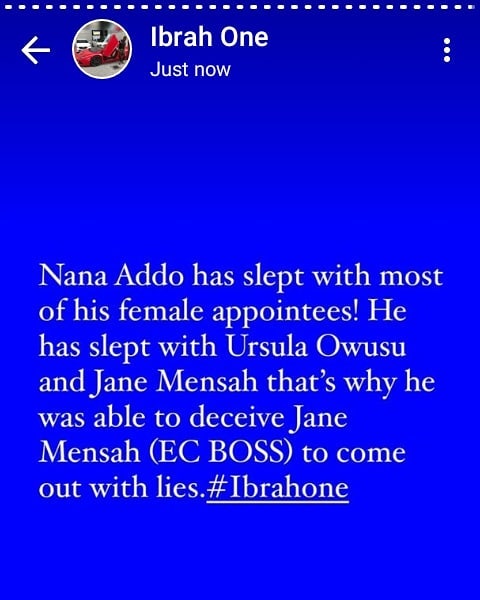 Source: OccupyGh.com