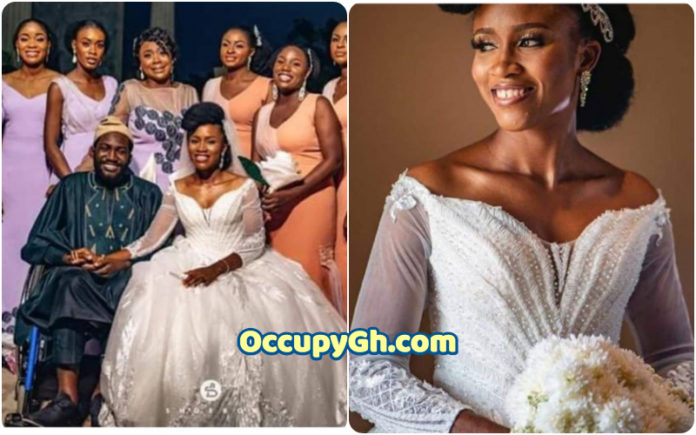 A physically-challenged young man who recently got engaged to his beautiful wife has shared a heartwarming story of how he met his wife.
According to the story sighted by OccupyGh.com which was shared by Joshua Christopher – the groom, his wife is his heartbeat and he fell in love the very moment he saw her.
Joshua Christopher also shared a part of story when he was involved in a terrible accident some years back. He wrote:
"I met Sozo around September 2015. My cousin had just come visiting from Abuja to Zaria where I was with my mum. Apparently, my cousin Eka had come with Sozo and another friend of hers. I saw Sozo but at first, she wasn't my kind of girl, looked annoying, had little bow legs and looked too serious.
I think I still had my head up in the clouds so I didn't see her well. Well, I came back to Abuja much later and met her again and we became friends. We built a real friendship from there. I thought it was time I got serious with my relationship so I took out time to pray about my life partner. I had conviction and I simply got a ring.
On the 25th of December same year, I came over to her and simply slipped a ring into it without her consent. Well, we were so real as friends, so she laughed and we flowed like that. We grew to like ourselves too much before we fell in love. We simply were so real and true with ourselves. Around October, we travelled to Jos to see her mum who was battling breast cancer then (we eventually lost her).
While, Sozo and I were with her and I thought it was time to slip the second ring. I went on my knees in the hospital and asked her to marry me in front of her mother after her mother had finished teasing me that I was behaving like an expecting hen when she saw my restlessness before proposing. We needed to be back to Abuja for an exam and catch up on some programs.
On our way back, just an hour into Abuja at Kagarko, we had an accident. It was a public vehicle but we three -Sozo, my cousin (the same cousin as above) and I were seated at the back. The driver was a bit unstable and we had warned him. Some minutes after, in the bid of trying to avoid an oncoming truck overtaking another truck against our lane and avoid a collision, the car tumbled several times and that was it.
Sizing sustained multiple hip fractures which kept her on the bed for three months. My cousin had a femur fracture and is now better. But I had a spinal compression on my c5c6. I went through surgery and subsequently sustained a bed sore of 7cm deep and 5cm wide and 7cm long."
Checkout the photos below or visit OccupyGh.com for more breaking stories…
This story is touching, don't forget to share to motivate someone.
Source: OccupyGh.com