A young lady, @the_amarion on Twitter, has cried out after a landlord rejected her just after she found a house she wanted.
Surprisingly, someone can boldly come out on social media in Nigeria and say she is a lesbian even though there is a law prohibiting lesbianism. In Nigeria, it is against the law to practice lesbianism or any form of a sexual relationship between people of the same sex. If you are caught, you will suffer maximum imprisonment of 14 years. The law was signed by former President Goodluck Jonathan in 2014.
If you are a Muslim and you commit such an act as lesbianism in any of the northern states in Nigeria operating Sharia law, the penalty is death. So LGBTQI is not acceptable in any part of the country, probably that was part of the reason the landlady rejected her.
According to her, she saw a house that she liked to rent. But the landlady asked for her social media handle. She said immediately the landlady asked for the social media handle she already knew she had lost the house.
Two days later, she got feedback from the agent that was helping her to secure the house. The agent told her that he was looking for another house already because the landlady of the house she wanted to rent said she is a lesbian and it is a sin to be a lesbian.
In her words, "so, I found a house and the landlady asked for my social media handle. then and there, I knew I had lost the house. Two days later, I've gotten feedback from the agent
"I'm trying to get something else for you.
the landlady said you are a lesbian and it's a sin"
oh well."
Reacting further on the issue, Amara apparently described people hating lesbian as "homophobic people" and says she hopes they make it to heaven while she makes it to hell.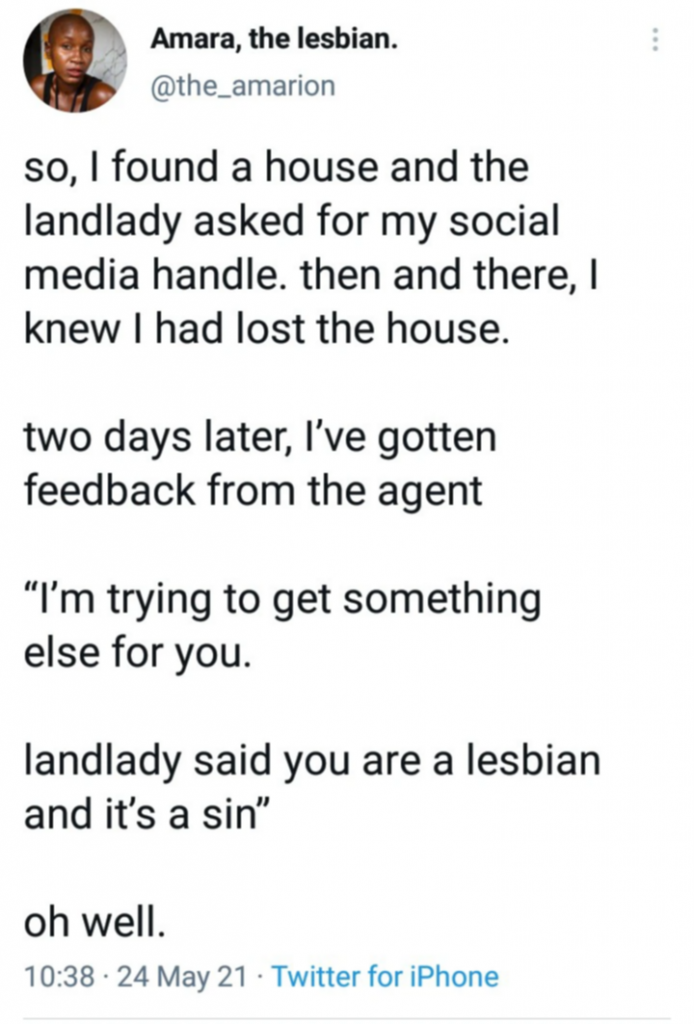 Subscribe to watch new videos
Source: OccupyGh.com