For the first time, the baby mother of Ghanaian blogger Zionfelix, known as Minalyn, has discussed her relationship with the blogger.
The blogger's affair with Minalyn, which led to his pregnancy with Erica, a Ghanaian living in Italy, is no longer news.
There has been turmoil amongst the three parties since this blogger's "secret" news made its way onto social media.
Minalyn, who has always kept quiet about everything, has made the decision to start the new year by telling everyone the truth and addressing some claims and comments made on social media.
She clarified in a lengthy message on her official Instagram page that rumors that she is carrying Zionfelix's child or has a son for him are untrue and should be ignored by anyone who hears them.
Moreover, she claims that Zionfelix is now history to her because she is no longer intimately involved with him and has moved on.
To that effect, she claims that because Zionfelix didn't understand the worth of gold (Minalyn), she left him in order to be with someone who does.
Additionally, Minalyn disclosed that Zionfelix's conception of Erica wasn't an accident but rather was planned in advance.
See her full post below:
"Until the lion learns how to write, every story will glorify the hunter". I must admit that everyone is entitled to his or her own opinion, however truth must be told that some opinions are pointing to the wrong direction.
It is against this background that I have resolved to write and address the subject matter being speculated about myself and Zion.
First and foremost, the rumors being speculated that I have taken seed and/or given birth to a baby boy with Zion being the father are absolutely false.
There's no iota of truth in those speculations. I am not pregnant nor have I given birth to a baby boy.
Let me hasten to add that I have moved on with my life and am no longer in an intimate relationship with Zion "Gold they say should be sold to the one who knows the value of it."
If another woman was able to force her way into our relationship destroying it in the process, then this can obviously be attributed to the fact that my partner availed himself and deliberately opened the door for that to happen.
This I can confidently say wasn't a mistake as claimed but was premeditated. You will all bear me out that it is unfair for someone's uncontrollable actions to be my headache or someone else. Posterity will judge us all. I wish him and whoever is involved well.
I wish to express my profound gratitude to all who sent me messages of encouragement and remembered me in their prayers. I am most grateful. To all those who out of hatred fabricated expensive lies against me and jubilated over me, I forgive you all but leave you in the hands of Jehovah. for vengeance is His. In life, It is said that "the dance of a mad man is only funny when he is not your family member."
Remember, the fall of brown leaves is a forewarning to the green ones.
All said and done, I have by this medium concretely established the truth that Zion and I are no longer partners and share no intimacy.
May GOD continue to bless us all Happy new year.
Shalom ??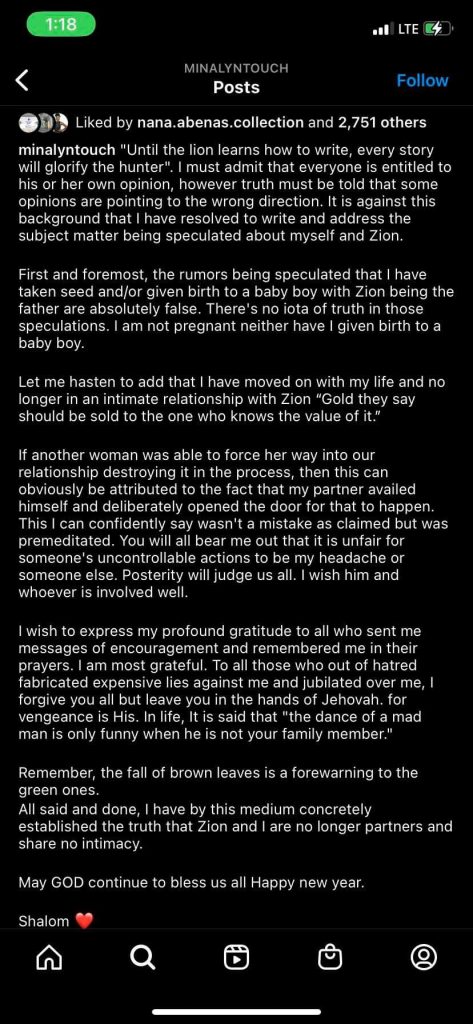 Source: OccupyGh.com 
Tap To Join Our WhatsApp Community