The President of Ghana, Nana Akufo-Addo on Tuesday, 24th March 2020, met with the leadership of some of the 137 Market Associations in Accra.
ALSO: Just In: Ghanaian Prostitutes Closes Business Till Further Notice Over Coronavirus
The meeting was to thank them for their co-operation with a disinfection exercise that went down in Accra yesterday, 23rd March 2020.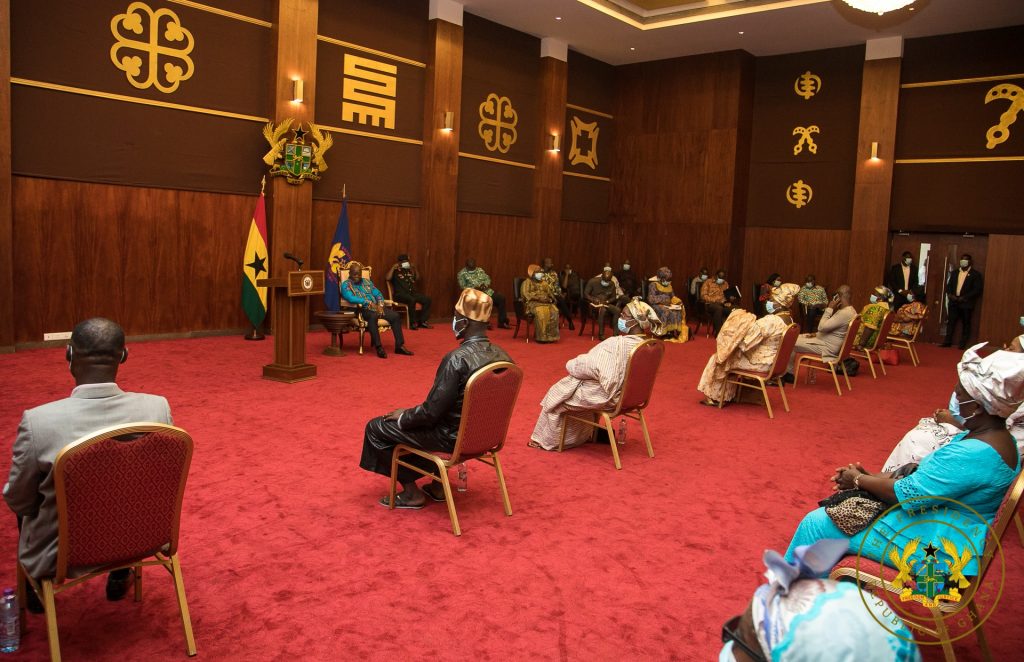 The disinfection exercise that took play in various markets in the country was to aide in combating the spread of Coronavirus in the country.
Check out photos from the meeting below or visit OccupyGh.com for more stories.
https://web.facebook.com/nakufoaddo/posts/10158102983899836?__xts__%5B0%5D=68.ARBZTXSpIRaEjGiUfXHR2U5qP2BhQ_Qw03Ya–zVAuaNZ3nadN894tyPJtpDZzzuey_zD6qqFTXNSHPne7n8wt9uLdl6Xxiu11FvuemL_670YkkvkypFRPU_Ad2t2MGSI4j3K9OODk_UwOa2tIQe34gjrYb2t-HrfRrf2HuJg2bHQulmQCG626CJBep0BAe9RJRPYPn6-4bGg6l1ATH9O8D36m9qyOj_ZVTCOUn1aE25-YOWUSWuW_9EABCeCM6tkbmqXeuErPYxL95be8XAKU6ogTE3bm5OHM37HTYjsP1EboVCMzvNvt5FQpRcVzBi0jsKr065vnf3kDuwPssDxx_iCmqIA0W4FVBKj9x_CO2BpGMba0lETbkrk129gYJHIUYoG6sdlJ8Or9z9LST2xGmq8fwKNajVAhvH-UHH98NtFIntJHewMWQbUr5iiiDg9zMnhjMPcU8l6Ym_rODCxa-jJUjFi0HkvPpcbYn55DjASyI&__tn__=-R
Source: OccupyGh.com