A couple has been caught in shocking footage chopping themselves in a party in front of kids as per a new video that has just surfaced online.
The pair were allegedly caught in the act on Friday, April 23, at Edinburgh Playing Fields in Aylesbury, Bucks, England.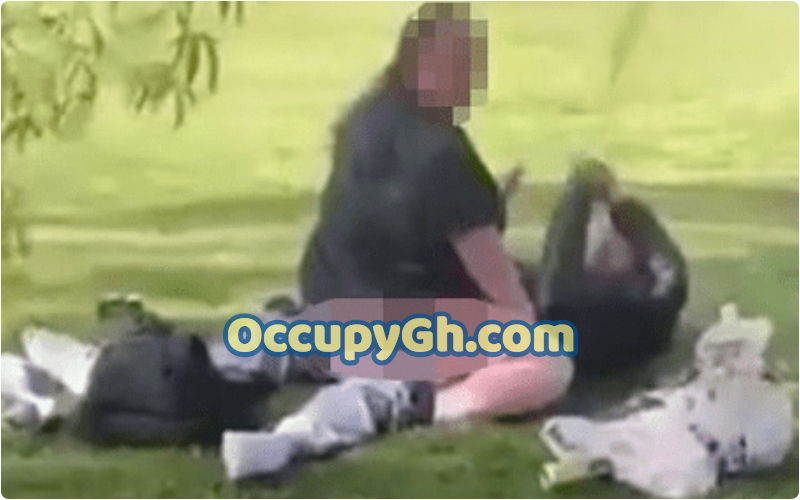 A mum, who was at the park with her child and nieces, confronted them when she saw them having $£x. She filmed the confrontation and shared it on Snapchat.
In the footage, the mum walks up to the couple who have their pants down, with the woman sitting on top of the man as he lays on the grass.
"Excuse me, there are kids over there and you're having $£x: the mum tells the couple.
The man, lying beneath his counterpart who does not appear to have any underwear on, simply says: "Yeah, I know."
"What, you think that's alright?" the mum asks.
They both admit that they don't think it's right but remain in their position.
"We have done wrong," the woman adds.
The person behind the camera then says: "So why are you still sat on him and you're fing in a park? My child is seven years old. You lot are taking the fing p**s."
At this point, the woman slides off her male partner and says: "I know, we've f***ed up."
The video has since gone viral on both Facebook and Reddit, horrifying viewers.
Check out the video below or visit OccupyGh.com for more videos & Kindly Subscribe to our Youtube Channel to see more viral, educative & exclusive videos.
[maxbutton id="1″]
Source: OccupyGh.com